I didn't get to see the match, as it was too early, but France did it: they won against Russia! 64–69. They have been led almost the whole match, but they have always been in the game. Diaw has done a very good game, along with Parker (again) and Turiaf. Very good victory which puts them at the top of the new group E, along with Greece which destroyed Israel 106–80. Croatia in the meantime beat Macedonia 81–71; Macedonia will be the next opponent of the French team.
Next on the schedule was Slovenia–Spain which I had pointed out as a match to keep an eye out for. And it didn't fail to entertain! Although Slovenia was led by 15 points at the end of qtr 3, they managed a crazy come back (especially thanks to Dragić, who managed 2 unbelievable steals) and in the 4th quarter came back to -5 with 32s to go… Quick fouls and a shaky Spanish team allowed Lorbek to score the equalizer on the buzzer, 78–78, finishing the amazing turnaround to drag Spain into extra-time. Unfortunately, the price paid was a bit too high (too many fouls), and Spain just walked through the extra-time to win 90–84. At the same time, Turkey confirmed their supremacy over Group D and won against the Polish home team, 69–87.
Germany–Latvia was to be tense, as the 2 teams were contending for the 3rd place, synonym of qualification for the next round. And tense it was1! Latvia have been in the lead most of the game, and needed 8pts to go through. And with 22s to go, they had them (57–68) until Jagla scored a 3 pointer, followed by 2 free-throws. The game finished 62–68, and Latvia was out. They can have regrets, as they only scored a 19/38 on free-throws…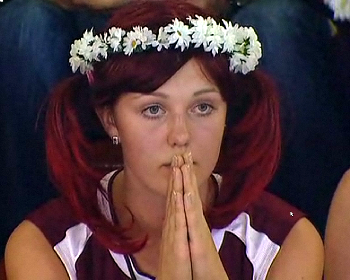 Finally, Lithuania needed a win to go through, and they got one. But how painful it was… Bulgaria seemed to be in good shape, but after a series of missed 3 pointers in the second half, and under the pressure of a bossy Lavrinovic, they just collapsed and lost the 4th quarter 27–13. Lithuania won 84–69, which is rather severe, considering they have been led for most of the game. Great Britain lost 59–77 to Serbia.
This Day 3 was the last of the Preliminary Round, and Israel, Bulgaria, Latvia and Great Britain are now out, and the other teams are now in 2 groups for the Qualifying round:
Group E: Greece, France, Croatia, Germany, Russia, Macedonia
Group F: Turkey, Slovenia, Serbia, Spain, Poland, Lithuania
The points gathered so far are kept (except the ones gathered against eliminated teams, if I understood correctly, because it's hard to find a proper description of the competition system), and the last 2 teams of both group will go home.
Matches to watch on Friday and Saturday: Russia–Croatia, France–Macedonia, Turkey–Spain, Lithuania–Slovenia.
1 It appears that Kambala ("better than Rocky" indeed) elbowed Hamann in the face after the match, and the latter had to be brought to the dentist for a broken tooth. Kambala will more than likely face a lengthy ban.