There is not much Germany could do against a well-organised Macedonian team: 26–14 in the 3rd quarter, and a series of turnovers killed Germany's hopes of getting out of this game victorious. The final score was 86–75.
The game between Russia and Greece was quite good, and despite Russia being in the lead most of the game, Greece was still at striking distance. The zone defence proved to be tough to the Greek team though, and Russia won this crucial game, 68–65.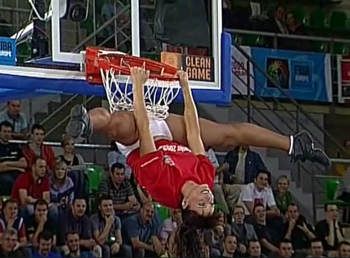 France remains undefeated, despite being led all first half in their match against Croatia. Croatia managed a very good first half, with a lead up to 9 points. But once again France came out of the locker room decided to turn the situation around, and that's exactly what they did in qtr 3, with a brilliant Tony Parker, and good few 3 pointers. Croatia lost patience and panicked, and finally let the game slip away, despite coming back to -4 in the last minute. The game ended 79–87.