The least I can say is that the final of the EuroBasket 2009 will have been a bit of an anti-climax (as I said somewhere else before the match, "now it's turtles all the way down, and Spain on top"): at no point Serbia threatened to even come close to tickling Gasol's stubble. With a very comfortable +15–+20, Spain could sit down and relax, and watch Serbia try interesting attempts beyond the 3-point line. In fairness, it was mainly because Spain's defence inside was just impenetrable (I guess when you have 2 pairs of arms sticking out of 2.14m lads towering above you, you kind of think twice before attempting a lay-up). So, anyway, the story goes, the game ended 85–63 (yes, 22 points in a final of the EuroBasket). The only interesting thing coming out of this game (for me) is that Rubio answered the question I was asking a few days ago. He was good last night, quite present in defence, scored a couple of 3-pointers – so he justified the hype around him.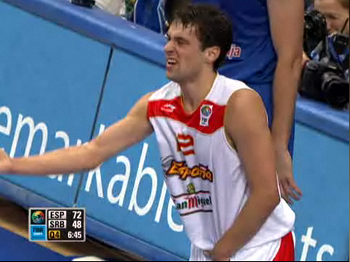 Spain have been holding a firm grip on this final. A very very firm grip.
France was playing Croatia for the 5th-6th place, but both teams were leaving the stars on the bench (Tony Parker was being rested, Boris Diaw twisted his ankle), and it has been a great opportunity for Antoine Diot and Nando de Colo to shine! 18 points (4/7 at 3 pts) for the former, 15 for the latter, they showed that they had not been selected in this French team for nothing. France win 69–62 and therefore finish 5th of this tournament.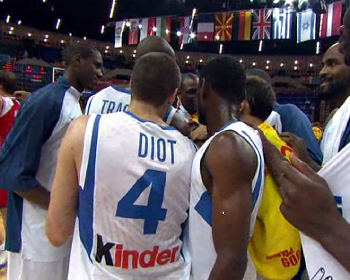 Come on lads, let me help you build the toy, that's not fair!!
Russia managed to beat Turkey for the 7th (66–89), meaning Turkey finish 8th, a bit of a disappointing result, given the EuroBasket Turkey accomplished.
All in all, the most exciting game of the day was between Greece and Slovenia, with yet another crazy finish for Slovenia, despite being led for the most of the game. Quarter 4 showed once again that Lakovic was the man of the money-time, dragging his team back to -1 with 9 seconds to go in an incredible last minute. Unfortunately, with the last possession, they didn't manage to put themselves in a great shooting position, and Nachbar had to resort to a lousy mid-court shoot which he missed… Slovenia lost 57–56, but can leave with many regrets: they were one foul away to get at least silver, and they're leaving with nothing.
So EuroBasket 2009 finished with a clear winner, Spain, who doubtless will cause some troubles to Team USA next year in Turkey. The "qualified teams" for Turkey 2010 are: Croatia, Spain, France, Greece, Slovenia and Serbia, the biggest surprise being Lithuania missing, but chances are they will be awarded a wild card by FIBA.
And that's it for me!